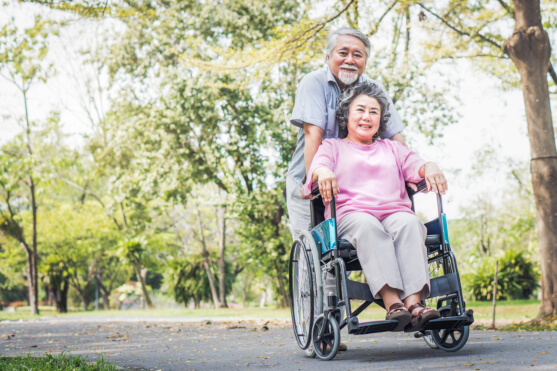 When we get older, we experience changes in our body as well as in our physical function. With that, we become more prone to joint problems, muscle pains, and bone diseases that contribute to mobility issues. Given that, if you see your loved one experiencing poor mobility, it is best to help them by giving them some mobility aids and devices. In this way, you can make their everyday living better.
We know how you value the well-being of your loved one. This is why we provide you with this list of the widely used mobility aids that you may find useful:
Wheelchairs
When it comes to this mobility aid, your loved one can either choose a manually operated or a power-driven wheelchair. The advantage of this device is that elders can use this both for indoor and outdoor purposes. Indeed, your loved one can enjoy their daily activities and some exciting adventures when using this device. To be able to get the perfect wheelchair for your loved one, you have to consider and make sure that it is comfortable and it helps your loved one in achieving their daily needs.
Canes
If your loved one does not need or prefer a wheelchair, then this is the best option you can offer to them. Canes or walking sticks are among the most recommended mobility aids because of their lightweight material, appropriate handle size, and quality grip. Through this tool, your loved one can now easily and confidently walk from one place to the other. However, when choosing a cane, make sure to consider that the bottom is made out of rubber, the height is right for your loved one, and the overall material is lightweight.
Walkers
If your senior does not like the first two options, you can suggest for them to use a walker instead. There are different types of walkers available in the market, and the one you choose should meet your loved one's walking goals and needs. There are walkers that are foldable and non-foldable, as well as adjustable and non-adjustable. With that, you need to be keen in selecting the walker for your elderly loved one.
Are you looking for a durable and quality medical equipment in New Jersey? Linden Retail Specialty Pharmacy is the company you can definitely rely on. For years, we have been trusted by reputable healthcare companies and families in town for our honest and top-notch pharmaceutical products and services. With the help of our well-educated and highly experienced staff, your health is in the safest hands.
Do you wish to know more about us and our broad range of services? Please feel free to visit our official site at www.lindenspecialty.com or call us at a time of your convenience.
To learn the latest updates about medication management from the leading specialty pharmacy in Linden, New Jersey, you can like our Facebook page. Get more informative articles starting today!